WebHostingPad is among the top web hosting services in the world. Their mantra is Hassle-free hosting and the focus apparently is on making the lives of their customers easier. The website is designed in the same manner as well with clear calls-to-action, large text, and not too much exposition while keeping a nice, easy-to-understand interface with only the core components listed and the rest are tucked away neatly in the menus.
A good start then for a service that boasts to be hassle-free for customers. Founded twelve years ago by a group of people who wanted to provide seekers with the best and the most streamlined hosting out there. The company, since then, has evolved for the better to one of the best in the industry promising to stay in touch and be transparent by utilizing its blogs and social media.
Now a question begs to be answered, what are the plans they provide and the types of hosting services they offer. They have plenty of plans and types of hosting services to offer at varying prices. Some of them are listed below.
Shared Hosting
WebHostingPad is one of the hosting companies that is designed for beginners and as such provide shared hosting services. Under shared hosting services you only have two options you can choose from which makes it easier for beginners. Under this, you get the same features as email hosting services and everything is unlimited.
WordPress Hosting
Think of this as an upgrade of shared hosting services, providing you with more powerful plans to convince you to make the switch to the popular CMS. Although it costs a little more than shared hosting, it comes with a lot of perks like a global CDN, WordPress cPanel access, and other enhancements.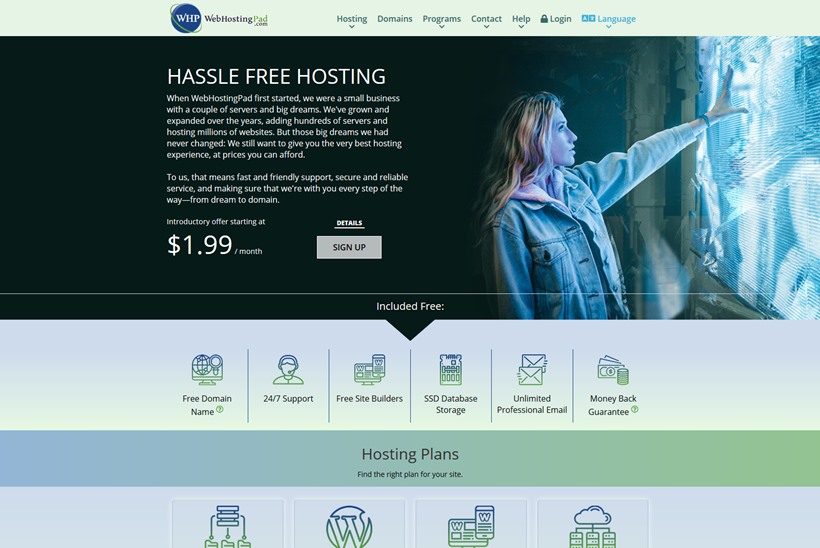 VPS Hosting
VPS Hosting is a type of service that is most suited for those with medium-sized sites. It has some of the cheapest prices in the market making it a good bargain while providing five unmanaged Linux plans and one managed plan making you pay only for what you are using rather than everything. What makes it stand out is that even beginner plans provide the same features as all the others.
Email Hosting
Email Hosting is for those who want to own a domain with their own mail and WebHostingPad has an offering called PadMail just for those. It has a good privacy policy of not scanning emails like Google or Yahoo and they stand by it. It has all the features that regular mail service has like filters to catch and block spam, catch-all, autoresponders, and unlimited accounts.